If living in a hotel, traveling or staying in some place temporarily, investing in a reverse osmosis system that requires installation makes no sense.
That is why you need to get a portable reverse osmosis system.
A portable reverse osmosis system is precisely what it sounds like – an RO system that you can easily carry around.
Portable reverse osmosis systems are easy to install as they do not have permanent connections to a water source.
In this guide, we've reviewed the best portable reverse osmosis systems to help you get the right system for your needs.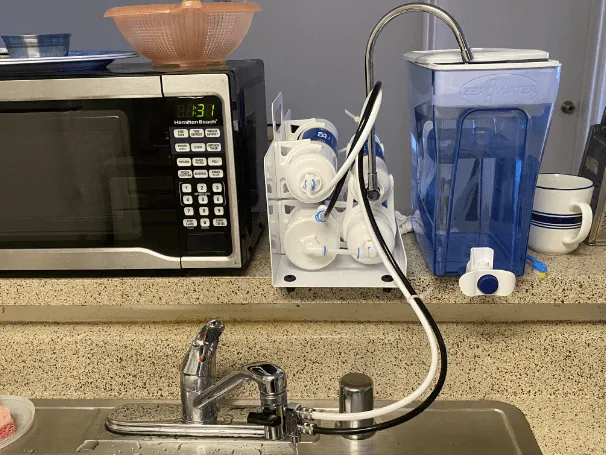 Best Portable Reverse Osmosis System: Comparison Chart
Brand
APEC RO CTOP-C
Bluevua
RO100ROPOT
Universal 5-Stage DI  0PPM
Express Water EZRO5
Price on Amazon
Price on Amazon
Price on Amazon
Price on Amazon
Dimensions (inches)
15.5 x 6.5 x 6.5
14.1 x 17 x 18
14 x 7 x 7
13.25 x 6.5 x 14
Weight (pounds)
10
26.3
15
11.58
Water filtration stages
4
4
5
4
Water flow rate
90 GPD
100 GPD
75 GPD
3.73 liters per hour
Pure-to-waste water ratio
1:2
2:1
1:3
1:2
Feed pressure
40 – 80 psi
–
–
40 – 85 psi
Certification
WQA certified
NSF/ANSI 58, SGS and TUV certified
Most parts are NSF certified
NSF/ANSI 58 certified
Warranty
1-year warranty
1-year warranty and 30-day money-back guarantee
1-year warranty
1-year limited warranty
1. APEC RO-CTOP-C Reverse Osmosis System
Check Price on Amazon
APEC is one of the industry's leading water filtration companies and makes top-quality products. Their systems offer superior filtration performance, and the RO-CTOP-C is no exception.
The system is lightweight and specifically made to offer convenience, ease of use and portability.
It provides healthy drinking water and can produce up to 90 gallons daily.
Some of the key features that the RO-CTOP-C one of the best portable RO systems include:
US-made high-capacity filters
The model boasts super high-capacity filters that filter up to 99% water contaminants.
They include a quick-connect 5-micron sediment pre-filter, coconut shell activated coconut pre-filter, FILMTEC high rejection TFC reverse membrane, and a coconut shell activated carbon post-filter.
These filters filter the water progressively in 4 stages removing sediment, chlorine, odors, arsenic, lead, fluoride, chromium and 1,000+ more.
Easy transport
The RO-CTOP-C is compact and lightweight hence easy to pack and transport. It is, therefore, ideal for use in mobile homes, RVs, retirement homes, condos or college dorms.
Easy DIY Installation
This model is designed with simple installation in mind. It is equally easy to maintain, thanks to the John Guest quick-connect fitting, which enables quick filter changes.
Additionally, the included faucet adapters connect to standard faucets with little effort.
Certification
The system is WQA certified to provide pure water.
Pros
Produces 90 GPD
Installation free
Comes with a classy aluminum case
Compact and lightweight
Has long-lasting filters
Cons
Connects to standard faucets only
2. Bleuvua RO100ROPOT Reverse Osmosis System
Check Price on Amazon
Founded in 2021, Bluevua's goal is to make pure hydration fit your lifestyle. They make unique products from functional and aesthetic standpoints to fulfill your needs, and the R100ROPOT is no exception.
The system filters water in 4 stages and can remove up to 99.9% of contaminants in your water.
It is incredibly fast (100 GPD), efficient, and takes only 5 minutes to fill a jar of water. With a purified-to-waste water ratio of 2:1, the model is 600% more than conventional RO systems.
Other key features that make the ROPOT a great deal include:
Intelligent filter life reminder
With the system, you will never have to worry about missing a filter change, as the filter life indicator will remind you to do so.
Power saving
This unit automatically goes to a power-saving mode when not in use to minimize power consumption.
Additionally, the water leftover from a filtration cycle is not immediately deemed waste and can be saved for a variety of household uses.
Borosilicate glass water container
The system's water container is made from a high-quality borosilicate glass carafe and not plastic. It reduces the risk of secondary pollution.
No plumbing or installation
The ROTOP requires zero plumbing and installation. All you need to do is plug the portable unit into a power source, and you are ready to go.
Pros
Rapid water delivery
High borosilicate glass carafe
Requires zero installation
Real-time TDS monitoring
Comes in a portable size
SGS and TUV certified
Backed by a 1-year limited manufacturer warranty
Cons
Pricey replacement filters
A little bulky
Best RO system with remineralization
Best RO filtration system for well water
3. Universal 5-stage DI 0PPM RO System
Check Price on Amazon
The DI 0PPM is a portable reverse osmosis system ideal for tiny apartments, RVs, condos or college dorms. You can also take it with you when traveling.
The system filters water in 5 stages and can produce up to 75 gallons daily. It can instantly transform your tap water into healthy, ultra-pure drinking water.
It requires zero plumbing
If you are worried about your DIY skills, you don't need to. This unit requires zero installation, and you can have it running in 60 seconds.
Superb filtration performance
As aforementioned, this unit filters water in 5 stages and removes more than 600 contaminants.
In the 1st stage, a premium quick-connect 5-micron sediment filter removes dust, rust and other large particles in the water.
A premium quick-connect T28 coconut-activated carbon filter removes VOCs, chlorine, offensive odors, cloudiness and colors in stage 2.
In the 3rd stage, a premium high-rejection TFC reverse osmosis membrane eliminates TDS and heavy metals like lead from the water.
A deionizing mixed bed polishing filter helps produce high-quality water in stage 4.
And finally, in the 5th stage, a premium coconut T33 filter removes any lingering tastes and odors in the water to produce great-tasting water.
Compact
The DI 0PPM is light, compact, portable and easy to disconnect when not in use. It fits together neatly for easy transportation.
Pros
Super easy to install
Removes more than 600 contaminants
Produces great-tasting water
Easy filter replacement
Cons
4. Express Water EZRO5 Reverse Osmosis System
Check Price on Amazon
Express Water reverse osmosis systems offer the highest impurity reduction rate to ensure you get the cleanest water and best value in filtration.
Their units are made from high-quality materials to last for the longest time possible, and the EZRO5 is no exception.
The countertop RO system produces up to 3.78 liters of water per hour and has a filtered-to-waste water ratio of 1:2.
Some of the key features that make the EZRO5 one of the best portable reverse osmosis systems include:
4-stage water filters
The system filters include a sediment filter, granular carbon filter, RO membrane, and post-activated carbon filter.
Progressively, these filters remove up to 99.9% of major contaminants in water, including dirt, dust, chlorine, VOCs, lead, arsenic, fluoride, nitrates, chromium and radium, among others.
Quick setup
The EZRO5 is easy to set up. In fact, you don't require tools to complete the project.
Easy filter swap
Filter replacements are easy with a simple design and clear labels. The labels help you to know what goes where at a simple glance.
Sediment, granular activated carbon and post-activated filters require replacing twice a year. The RO membrane is replaced once a year only.
Independently tested
The system is certified by an independent laboratory to NSF/ANSI standard 58 for the reduction of TDS, chlorine taste, emerging compounds and more.
Pros
Easy to install
Highly efficient and effective
Easy to extend with a hose
Reasonably priced
Well-detailed instruction manual
Cons
Slow water flow
Not compatible with sprayer faucets
Conclusion
If you are always on the go or living in an apartment where the landlord does not allow the installation of an RO system, getting a portable unit is the best option.
These units are easy to set up as they don't require permanent plumbing. They are also compact and easy to move from one position to another.
Our list contains 4 of the best portable reverse osmosis systems today. We hope that you find one that fits your needs. All the best.