With so many reverse osmosis brands today, choosing the best RO system for your home, office, or business can never be easy.
Most of these brands have high-quality RO systems with all the features you might want in a unit. So, how do you settle for one?
Do not worry. We've got your back.
In this guide, we compare Waterdrop and Aquasana brands to help you decide which company to get your water filtration product from.

Waterdrop vs Aquasana Reverse Osmosis : Key Points
| Feature | Waterdrop Water Filtration Systems | Aquasana Water Filtration Systems |
| --- | --- | --- |
| Water flow rate | Fast flow rate | Slow flow rate |
| Wastewater | Wastes less water | Wastes more water |
| Built-in pressure pump | Come with a built-in pressure pump | No pressure pump |
| Filtration technology | Advanced filtration technology | Claryum filtration technology |
| Quality of components | High quality | The quality of some components is not up to the mark |
| Certifications | Most products are NSF, CSA, UPC, WQA, WARS, UL, and FCC-tested and certified. | NSF certified |
| Price | High upfront cost | Low upfront cost |
| | See price at waterdropfilter.com | |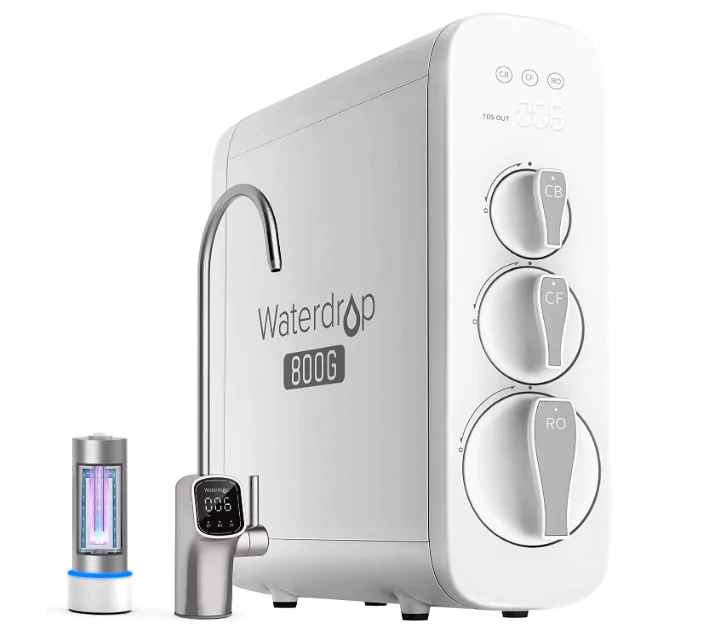 Check Price on Amazon
Waterdrop Brand Overview
Waterdrop comes from the desire to provide clean, safe, pure, and healthy drinking water. The brand was founded in 2015 to provide trustworthy water purification solutions.
It is highly dedicated to providing everyone worldwide with quality products to help them purify their drinking water.
The brand has designed, engineered, and delivered 200+ water purification products, including reverse osmosis water filtration systems, refrigerator water filters, water filter pitchers, faucet water filters, and under sink water purification systems.
Aquasana Brand Overview
Aquasana is an American water experts brand based in Austin, Texas. It was founded in 1997 and holds 26 patents worldwide.
The brand is dedicated to improving the health and wellness of every residence by delivering clean and healthy water through its best-in-class water filtration systems.
The brand's water purification products are proudly engineered and assembled in the USA. They include whole house water filtration systems, countertop water filtration systems, under sink water filtration systems, and shower water filters.
Waterdrop vs. Aquasana: Similarities
Premium Quality
Waterdrop and Aquasana products are of premium quality. The two brands are among the leading brands in the water filtration industry.
They are made from high-quality materials that are sourced following high industry standards. The materials are vetted by experts to ensure that all standards are met.
Highly Functional
Waterdrop and Aquasana water filtration systems are powerful units that are highly functional. Get any unit from the two brands, and you are assured of clean, pure, and great-tasting water.
RO systems from the two brands eliminate up to 99% of water contaminants, including heavy metals, TDS, chlorine, and fluoride, among others.
Easy Installation
You don't need to hire a professional to install filters from either brand, as they are relatively easy to install. In fact, you do not need special tools to set these systems up.
If you are a handy person or have simple DIY skills, you should be fine with completing the installation.
And since they come with an installation manual, you just need to follow the provided instructions.
Filter/Membrane Replacement
Waterdrop and Aquasana filter replacement is super simple. It will take you less than 5 seconds to pull out an old filter in a Waterdrop RO system and replace it with a new one.
You do not need to turn off the water supply or use special tools when replacing the filters.
Good Warranty and Guarantee
A warranty is the biggest vote of confidence. In fact, it is assumed that the longer the warranty period, the better the quality of the product in question.
Waterdrop and Aquasana products have at least a 1-year warranty( some up to 3 years or more). They are also backed by a money-back guarantee that allows you to return the system for a full refund within the trial period.
Waterdrop vs. Aquasana: Differences
Flow Rate
Unlike Aquasana RO systems with a slow flow rate, Waterdrop models have a very fast flow rate. A unit like the Waterdrop G3 P800 filters 800 gallons of water daily.
Additionally, Waterdrop systems come with a built-in pump that increases water pressure by 0.28 GPM to ensure you never run out of clean water.
Aquasana countertop and under sink RO systems have a very flow rate.
Waste Water
Of the two brands, Waterdrop systems waste the least water. Most have a drain ratio of 1:1, meaning that for every gallon of water filtered, only a gallon of water goes to waste. Others, like the G2 P600, have a drain ratio of 2:1.
Some products from Aquasana waste up to 4 gallons of water for every gallon of water produced.
Speaking of reduced waste water in Waterdrop RO systems, the built-in pressure pump makes this possible.
Filtration Technology
Waterdrop products use advanced filter technology that combines multiple filter materials to make a centralized filtration system. This simply means that their systems filter water in multiple stages.
The most common filters in Waterdrop RO systems are the composite filter that removes chlorine, bad taste, and odor from the water and the RO filter membrane.
Aquasana products, on the other hand, use Claryum filtration technology that filters 97% chlorine, 95% fluoride, and 99% of other contaminants, including lead, asbestos, and pharmaceuticals.
Price
If you are working on a budget, consider going for Aquasana products. They come at a fairer price compared to Waterdrop filters.
Certifications
Almost all Waterdrop products have passed tests and certifications like NSF, CSA, UPC, WQA, WARS, UL, and FCC.
Aquasana filters are tested and often certified to various NSF standards like NSF standards 42, 58,401,473, and 372.
Frequently Asked Questions (FAQ)
Q. Do Aquasana products waste water?
Every RO system wastes water, so yes, Aquasana products waste water. An RO system like the Aquasana OptimH20 wastes 4 gallons of water for every gallon of purified water.
Q. Do Aquasana and Waterdrop filters remove bacteria?
A number of Waterdrop and Aquasana filters remove or reduce bacteria from water. Units that come with a UV purifier kill bacteria.
Q. Are Aquasana products made in the USA?
Yes, Aquasana filters are engineered and assembled in the USA.
Q. Which brand has the best products, Waterdrop or Aquasana?
Both brands make high-quality products. However, if you are looking for highly-efficient, functional, space-saving RO systems with a fast flow rate, get one from Waterdrop.
If you are interested in a high-quality, affordable RO system, you will most likely get one from Aquasana.
Q. Do I need a plumber to install an RO system from Waterdrop or Aquasana?
No, you can install the system without the help of an expert. You will be surprised to realize that even without DIY skills, you can still hack this project.